Pictures - Other commercial

Singer produced other commerical simulators, besides the nuclear power plant trainers.
As we obtain pictures, they will be posted to this web page.

The other commercial simulators included: ships, solar power prototype, Uranium enrichment plant, fossil (coal) power plant trainers, and
A Locomotive Simulator

was produced.
There were at least two fossil trainers produced: one, for the Cumberland Steam Plant, was bought by the Tennessee Valley Authority as part of their combined contract for a BWR, PWR and fossil trainer in the early 1970s. (The other trainers were for Browns Ferry (BWR) and Sequoyah (PWR)). The contract roughly doubled the commercial side's backlog, and this resulted in hiring of a large number of people.
Another fossil trainer was produced in the 1980s for the National Thermal Power Company (NTPC) of India.
There were probably some less expensive fossil trainers produced by the Omnidata company after it was purchased by Singer. (If anyone knows for sure, please tell Phil Hoeper)
Trainers for the MASTER MATES AND PILOTS UNION
To provide training for members of this union, simulators were produce to meet the MATES training needs.

Included in these trainers were:
COLLISION AVOIDANCE RADAR SIMULATOR (CARS)
A Radar Navigation Trainer that taught navigation in harbors around the world.
Pictures of the CARS trainer are wanted
ABCT ENGINE ROOM TRAINER
Simulation of the ESSO San Francisco was used to train ship captains the elements of engine room control.
Pictures of the ABCT are wanted
LCOT Liquid Cargo Operations Trainer
The LCOT was used to teach how to properly load and unload large tankers so that the ships could be safely loaded and unloaded without "hogging" or "sagging" the ship's hulls.
Pictures of the LCOT are wanted
NASA LUNAR EXCURSION MODULE TRAINER
Pictures are wanted of the Lunar Excursion Landing Craft Trainer. We provided all of the software used on this trainer which was sucessfully used teach the first astronauts how to land on the moon.
Pictures are wanted of the Lunar Landing Excursion Module Trainer.
APOLLO COMMAND MODULE SIMULATOR
Here is a photo of the Apollo Command Module (the part which stayed in lunar orbit) simulator. The photo was provided by Robert Borland's son, Ken. (Thanks to Ken)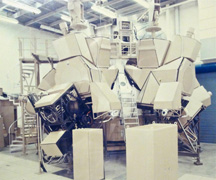 This file last modified on November 11, 2020