RECENT LOSS OF FRIENDS


It is very difficult to write about the loss of so many wonderful friends!


We will miss them all!

Mary Catherine Weese

Mary Catherine Weese passed away on March 12, 2021. Mary was the wife of the late Claggett Weese and sister in-law of the late Eugene Collier.
Mary retired from the Columbia location.
Services Wednesday March 17 at Meadow Ridge Cemetery in Elkridge, MD
An obituary is here.
(Thanks to Neal Jarvis for this information (3/16/2021))



Jeanne Grady

We recently that Jeanne Grady passed away January 22, 2021, after a long battle with cancer.
(Thanks to Ruth Alexander for this information. 03/15/2021)




James F Wopart

We recently that James F Wopart passed away August 12, 2019. He worked for Link Simulation Systems Division in Silver Spring, MD in the Marketing Department and was Manager of Process Simulation. He also worked for Link in Binghamton, NY.
See here for an obitrary. (Thanks to Dixie L. Penner for this information. 02/10/2021)


Jerry Fike

Steve Shipley informs us of the passing of Jerry Fike (9/24/48 - 12/29/20) . Jerry worked in field service at Naval Air Station North Island in San Diego, CA.

He is survived by his sister, Patricia Barnas of Lansing, MI and by his partner of 40 years, Sybil Shipley.

Send condolence messages to Sybil Shipley, 3541 Park BLVD, #201, San Diego, CA 92103

(01/18/2021)

Gerda Ryan

Charles Gideon informs us that Gerda passsed away on August 4, 2020. There is an obituary here.

(08/13/2020)

Charles Curley

Charles' son John informed us that Charles passed away February 4, 2016. See here for more information.

(7/9/20)

Diane (Kirchner) Lillis

We have heard that Diane, an employee of Link, passed away recently. She was Joe Kirchner's daughter, Bev Kirchner's sister, and was married to Ed Lillis. There is a small amount of information here; please check back later.
(05/21/20, modified 05/23/20, thanks to Jim Zehner for this information)

Robert J Ryan

Robert passed away on May 4, 2020. No details are available currently. See more information here. (05/05/2020)

Susan J June

We recently heard that Susan H June passed away December 5, 2018. She worked in data entry at Singer. An obituary is here.

(Thanks to Charles Gideon for this information. 04/15/2020)

Al Huey


Allen (Al) Lee Huey
Allen Lee (Al) Huey passed away Sept 18, 2019 in Leonardstown, MD. An obituary is here .

Richard J Oliver

Richard passed away August 22, 2019 in Florida. An obituary is here

Bill McMichael

We have heard that Bill passed away a few years ago; no more information is available.

(thanks to Jim Zehner for the above three items. (3/14/2020)

Elkon D (Dick) Neil

Elkon (Dick) Neil, 87 of Lakeland, FL passed away peacefully February 17 at his home surrounded by his family He was born June 25, 1932 in Corsica, PA, the son of David E. and Eva B. Neil Mr. Neil graduated from Clarion-Limestone High School and Penn State University. He joined the Army Infantry Division in 1952. He went to work as an Electrical Engineer in Hyattsville, MD after leaving the Army. He retired from CAE after almost 30 years as Vice President of Field Engineering. In 1992 he moved to Littleton, NC and taught at Halifax Community College for a couple of years. In 1984 he married Violet Thompson who survives. Also surviving is two Sons, David Neil of Dubois, PA and Donald Neil and wife Sherry of Iron Station, NC, and one daughter, Robin Marks and husband Robert of Apollo Beach, FL. Also surviving are two sisters, Mary Kirkpatrick of Knox, Pa and Linda Young of Deltona, Fl. as well as numerous Grandchildren, Great Grandchildren and Great-Great Grandchildren. He was preceded in death by one daughter, Susan Sullivan of Littleton, NC. A memorial Service will be held at Calvary United Methodist Church in Littleton, NC. March 21, 2020 Details to follow. In lieu of Flowers donations may be made to Calvary United Methodist Church, 136 Calvary Church Road, Littleton, NC 27850 or a charity of your choice.

Thanks to Rufus Hunter for this information (02/18/2020, updated 2/20/2020)

Charles Aboyoun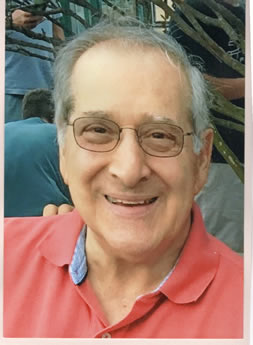 Charles passed away on February 8, 2020. Viewing will be held on Friday Feb 14 and Saturday Feb 15. Details of this and of the mass, interment, and celebration are here.
Thanks to Cathy Fuller for this information (02/10/2020)
Thanks to Jim Zehner for the photo (08/06/2020)
RETURN TO LINK ETERNAL PAGE

RETURN TO HOME PAGE
This file last modified on March 16, 2021