RECENT LOSS OF FRIENDS


It is very difficult to write about the loss of so many wonderful friends!


We will miss them all!

Faith Arrington

We recently learned that Faith had passed away September 24, 2022. An obituary is here

Howard Benson

We recently learned that Howard had passed away Jan 4, 2022. An obituary is here.

Evan Ellio Morgan Lloyd

We recently learned that Evan passed away October 14, 2022.
There is little information at the present time. Check back later for updates.

Thanks to Rob Johnson for this information (10/15/22)

William Michael Groves ("Mike")

We recently learned that Mike passed away July 27, 2021. An obituary is here.

Thanks to Neal F Jarvis for this information (10/02/22)

Stan Marshall

We recently learned that Stan Marshall passed away on 12/26/21. An obituary is here

(Thanks to Jim Zehner for this information) (09/18/22)





Bert Taymans


Albert "Bert" David Taymans passed on July 15, 2022.
Bert worked in HR for Singer, and had many other interests. More information is here.

Thanks to Buzz Spencer for this information. (07/19/2022)




Adrian Das

We heard that Adrian passed on April 2, 2022. An obituary is here.

(Thanks to his daughter, Felicia Das, and Doug Hibbs for this information (4/5/22) )

Atul Kumar

Atul passed away on March 5, 2022 in his sleep due to heart failure. He was 73 years old and is survived by his wife Veena and his son and daughter. An obituary is here.

(Thanks to Ashok Arora for this information (4/4/22) )

Ray Rogers, Ray Bernier, and John Bonnar

We recently heard of the passing of these three Link SSD employees.

Ray Rogers passed 8/21/21. See here for an obituary.

Ray Bernier passed 7/15/18. See here for an obituary.

John Bonnar passed 3/30/10. See here for an obituary.

(thanks to Ed Slabik for this information 02/09/22)

Walt Hendrix

Walt's son, Scott, called me today to advise of Walt's passing yesterday (1/14/22) after an extended decline in health. I talked to Walt last summer and he advised of his health issues; I last heard from Joyce about two months who informed me that Walt was not doing well and declining. Scott said Joyce is doing incredibly well – knowing Joyce, she is a strong lady and I also suspect she was happy that Walt was no longer suffering. Walt was born 9/14/1934 and, if I have my facts right, was an original ACF employee at Riverdale. I first met Walt in 1970 when I still in the Navy finishing a Link factory course and he came down as the field service supervisor to hand out the diplomas. Many others, including Carl, know his earlier career better than I; but he was a versatile guy with an impressive knowledge of all aspects of simulation. He worked both the military and power plant side of the business and worked for me in the later years in Reliability Engineering. He had the utmost respect of his peers and a long career at Link (started in the late 50's/early 60's?) that lasted until he retired in March 1991. He had an even temperament and good sense of humor and was always quietly in command; I do not ever recall seeing him angry despite occasions where I am sure he was not happy with the situation and his anger would have been justified. He was the guiding presence for the many years of our reunions from the late 90's until just a few years ago. I treasured our times together planning and prepping the mailings for and enjoying our reunions. I have asked Scott for any notice and details of any services to honor his passing and will share when available. Please provide to Phil any additional insights you may have of Walt and pass the message along.

RIP, Walt Jim Zehner

Thanks to Jim Zehner for this information (01/15/2022. rev 1/25 - retirement date)

Also, please note that my father, (Cauthen) Walter Hendrix has passed away in mid January of this year, after losing his fight against Prostate Cancer. I will check back in with information on a memorial service, when plans solidify (hopefully COVID settles a bit), but expected before end of the year.

(Thanks to Scott Henderson for this update (4/29/22) )

Vernon ("Red") Townsend

Vernon Townsend, age 90, of Hernando, Florida, died on August 14, 2021. Vernon was born to Frank and Elizabeth Townsend at Continental #3, near Uniontown, PA and was raised by his Father and Step Mother, Kathryn Collins. He was preceded in death by his parents; step-mother, his loving wife, Iva, of 60 years, and infant son, Jeffrey & Brothers William, Frank Jr, and Sister, Rebecca. Vernon is survived by his brother Carl and Sister Ester Diamond. The devoted children of his late sister in law, Irene, Susan Ptak Brownlee, Alan Ptak, and Ronald Ptak, in addition to many other nieces, nephews, great nieces and nephews and great, great nieces and nephews. Vernon retired from Singer as Estimator, Real Time Simulation. Following private cremation arrangements, inurnment will take place in Pennsylvania at a later date.

A photo of Red is here.

Thanks to Jim Zehner and Susan Ptak-Brownlee for this information.

Nat Griffin

Nat passed away on November 20, 2021. An obituary is here. Buzz Spencer says

Hope you receive obit for Nat Griffin. He went for a hip operation and various complications ensued and ended up in ICU and after several weeks expired. Nat headed up Silver Springs manufacturing-facilities and was one of the key folks brought to Silver Spring in mid 1970's in from Singer's Louisiana Traffic light system Division to support and help facilitate the manufacturing, production and needed added facilities to accommodate Power Plant Simulators.

Thanks to Jim Zehner and Buzz Spencer for this information (01/08/22, rev 1/10/22)

Perley Charlie Waters

Charlie Waters passed away December 4, 2021. An obituary is here

(Thanks to Robert Mumford and Jim Zehner 12/18/21)

Henry (Hank) Wolinski

Hank passed away on December 14, 2021. An obituary and schedule of events is here . Visitation is December 19, and the funeral is December 20.

(Thanks to Jim Zehner 12/18/21)





David (Keith) Phillips


Keith Phillips passed away June 2, 2021. He was employed by CAE, Link Simulation Systems Division from 1977-1993. Information on memorial plans and an obituary are here.

(Thanks to his wife, Cindy, and to Tim Magnani for this information (06/15/2021)

Donald Kempster Hawkins


Don passed away June 2 in the comfort of his home after a extended illness and with his wife, Jessie, by his side. He would have been 95 years old next month. More information will be forthcoming regarding his obituary and any memorial service plans. He was born on July 19, 1926.
Thanks to Don's daughter and to Ron Poe and others for this information (06/04/2021)





Dick Cannon


We recently learned that Richard Lankford Cannon passed away.

Dick was born 6/7/1937, and passed away 2/18/2018. He was living in Riderwood Village, Silver Spring, MD. Jim remembers him as an excellent project engineer with a friendly personality and a quiet, effective leadership style.

Thanks to Jim Zehner for this information (05/21/2021)

Jose Hernandez


We recently learned that Jose Hernandez passed away on February 22, 2021.
An obituary is here.

Thanks to George Douglas for this information (05/21/2021)

Mary Catherine Weese

Mary Catherine Weese passed away on March 12, 2021. Mary was the wife of the late Claggett Weese and sister in-law of the late Eugene Collier.
Mary retired from the Columbia location.
Services Wednesday March 17 at Meadow Ridge Cemetery in Elkridge, MD
An obituary is here.
(Thanks to Neal Jarvis for this information (3/16/2021))



Jeanne Grady

We recently that Jeanne Grady passed away January 22, 2021, after a long battle with cancer.
(Thanks to Ruth Alexander for this information. 03/15/2021)




James F Wopart

We recently that James F Wopart passed away August 12, 2019. He worked for Link Simulation Systems Division in Silver Spring, MD in the Marketing Department and was Manager of Process Simulation. He also worked for Link in Binghamton, NY.
See here for an obitrary. (Thanks to Dixie L. Penner for this information. 02/10/2021)


Jerry Fike

Steve Shipley informs us of the passing of Jerry Fike (9/24/48 - 12/29/20) . Jerry worked in field service at Naval Air Station North Island in San Diego, CA.

He is survived by his sister, Patricia Barnas of Lansing, MI and by his partner of 40 years, Sybil Shipley.

Send condolence messages to Sybil Shipley, 3541 Park BLVD, #201, San Diego, CA 92103

(01/18/2021)

Gerda Ryan

Charles Gideon informs us that Gerda passsed away on August 4, 2020. There is an obituary here.

(08/13/2020)

Charles Curley

Charles' son John informed us that Charles passed away February 4, 2016. See here for more information.

(7/9/20)

Diane (Kirchner) Lillis

We have heard that Diane, an employee of Link, passed away recently. She was Joe Kirchner's daughter, Bev Kirchner's sister, and was married to Ed Lillis. There is a small amount of information here; please check back later.
(05/21/20, modified 05/23/20, thanks to Jim Zehner for this information)

Robert J Ryan

Robert passed away on May 4, 2020. No details are available currently. See more information here. (05/05/2020)

Susan J June

We recently heard that Susan H June passed away December 5, 2018. She worked in data entry at Singer. An obituary is here.

(Thanks to Charles Gideon for this information. 04/15/2020)

Al Huey


Allen (Al) Lee Huey
Allen Lee (Al) Huey passed away Sept 18, 2019 in Leonardstown, MD. An obituary is here .

Richard J Oliver

Richard passed away August 22, 2019 in Florida. An obituary is here

Bill McMichael

We have heard that Bill passed away a few years ago; no more information is available.

(thanks to Jim Zehner for the above three items. (3/14/2020)

Elkon D (Dick) Neil

Elkon (Dick) Neil, 87 of Lakeland, FL passed away peacefully February 17 at his home surrounded by his family He was born June 25, 1932 in Corsica, PA, the son of David E. and Eva B. Neil Mr. Neil graduated from Clarion-Limestone High School and Penn State University. He joined the Army Infantry Division in 1952. He went to work as an Electrical Engineer in Hyattsville, MD after leaving the Army. He retired from CAE after almost 30 years as Vice President of Field Engineering. In 1992 he moved to Littleton, NC and taught at Halifax Community College for a couple of years. In 1984 he married Violet Thompson who survives. Also surviving is two Sons, David Neil of Dubois, PA and Donald Neil and wife Sherry of Iron Station, NC, and one daughter, Robin Marks and husband Robert of Apollo Beach, FL. Also surviving are two sisters, Mary Kirkpatrick of Knox, Pa and Linda Young of Deltona, Fl. as well as numerous Grandchildren, Great Grandchildren and Great-Great Grandchildren. He was preceded in death by one daughter, Susan Sullivan of Littleton, NC. A memorial Service will be held at Calvary United Methodist Church in Littleton, NC. March 21, 2020 Details to follow. In lieu of Flowers donations may be made to Calvary United Methodist Church, 136 Calvary Church Road, Littleton, NC 27850 or a charity of your choice.

Thanks to Rufus Hunter for this information (02/18/2020, updated 2/20/2020)

Charles Aboyoun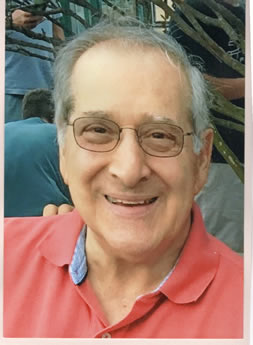 Charles passed away on February 8, 2020. Viewing will be held on Friday Feb 14 and Saturday Feb 15. Details of this and of the mass, interment, and celebration are here.
Thanks to Cathy Fuller for this information (02/10/2020)
Thanks to Jim Zehner for the photo (08/06/2020)
RETURN TO LINK ETERNAL PAGE

RETURN TO HOME PAGE
This file last modified on November 20, 2022